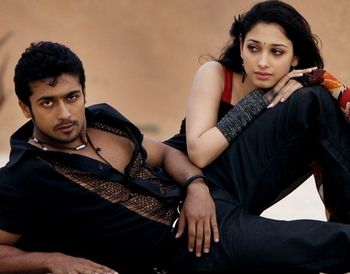 Ayan
Direction: K.V. Anand
Cast : Surya, Prabhu, Tamanna
Music : Harris Jeyaraj
Production: M. Saravanan, M.S. Guhan, Aruna Guhan, Aparna Guhan
Banner : AVM
Camera : Prabhu
Kalanithi Maran's Sun Pictures presents this years much expected Surya movie Ayan directed by famous cinematographer K.V. Anand under the AVM Productions banner starring Surya Sivakumar, Tamanna Bhatia, and Prabhu Ganesan in leading roles.
The music composer of the film is Harris Jayaraj.
The story is said to be a romantic comedy laced with lot of action. Suriya plays a cool guy who makes others laugh.
Ayan Review
Ayan is average film. It could have been much better if director had put some serious effort in creating a heartwarming story, than concentrating too much on how criminals carry out drug trafficking. The problem is, Ayan won't touch your heart. Everything else is good.
The story itself is not so catchy. It loses pace when songs arrive. The songs incorporated make the film drag from the main story.
Even though there were fans for the music done by Harris Jayaraj, the visualization and narration of film was not good enough. The script is not tight.