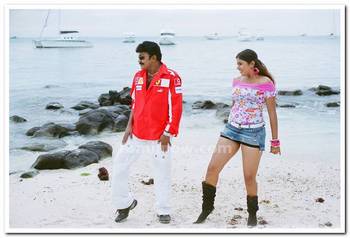 Idhu Thanda Sattam
Director: Kodi Ramakrishna
Music Director: Koti
Star Cast: Dr. Rajasekhar, Namitha, Nasser, Riyaz Khan, KR Vijaya, Thalavasal Vijay
Idhu Thanda Sattam is a film based on the life of a responsible youngster of struggling family. He is trying to get a job in Dubai to feed his family consisting of his widowed mother, sister, and a brother aiming to become a police man.
Rajasekhar asks for lift to airport in a lorry and the driver agrees to drop him there. But the truck contains illegal items, which becomes a problem for him later.
The movie may hit screens in November.