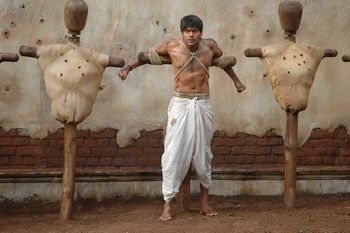 Madharasapattinam
Directed by : A. L. Vijay
Produced by : Kalapathi S. Aghoram
Written by : A. L. Vijay
Starring : Arya, Amy Jackson, Nassar, Cochin Hanifa, Bala Singh
Music by : G. V. Prakash Kumar
Cinematography : Nirav Shah
Editing by : Anthony Gonsalvez
Madharasapattinam is the forthcoming Tamil movie starring Arya and Amy Jackson in the leading roles.
The film which has the back drop in the pre-independent India will see Amy donning the character of an English girl. It is a love story set in 1945 in the then Madras under British Raj.
The others in the cast are Nasser, V.M.C Haneefa and Bala Singh. The film has music by G.V Prakash, lyrics by Na.Muthukumar and cameraman is the ace cinematographer Nirav Shah.
The sets are designed by Selvakumar and editing by Antony.