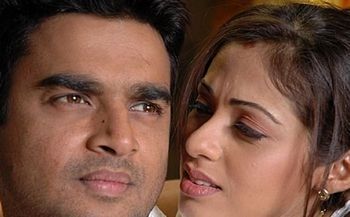 Naan Aval Adhu
Directed by :
Kona Venkat
Written by :
Kona Venkat
Production:
Saurav Sharma
Starring :
Madhavan, Shamita Shetty, Sadha, Sayaji Shinde, Sreeman, Sunil
Music by :
G. V. Prakash Kumar, R. P. Patnaik, Dharan
Naan Aval Adhu previously is an upcoming Tamil film directed by Kona Venkat who is making his debut in the Tamil film. The film will be dubbed as Nenu Tanu Aame in Telugu, with the same cast and crew. The movie stars Madhavan, Shamita Shetty and Sadha in the title roles.
It was initially produced by noted director and producer Ram Gopal Varma, but he sold the film before release to Storm Pictures as he and madhavan had creative differences.