The 13-kilometre long Marina Beach forms the city's east coast, from Fort St. George all the way to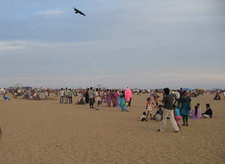 Mahabalipuram and is one of the longest beaches in the world. The Marina Beach is a sandy beach and is the most sought-after beach for many. A visit to the Marina Beach is an enchanting experience for a traveller.

There are many statues adorn the roadside alo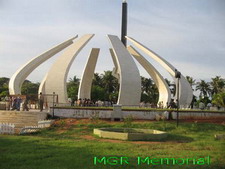 ng the beach which includes statues of Mahatma Gandhi, Kannagi, Thiruvalluvar, Sir Thomas Munro, Kamarajar, Avvaiyar, Thanthai Periyar and the Statue of Labour. At one end of the beach is Anna Square where the former Chief Minister of Tamilnadu Dr. C.N.Annadurai was buried. Next to the Anna Sqaure is MGR Samathi and a beautiful park. This is a memorial for Dr.M.G. Ramachandran, the former Chief Minister of Tamilnadu and also a former film hero. The tomb has an imposing memorial Pillar and an eternal flame.

The main road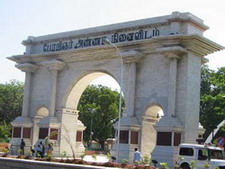 along the Marina is Kamarajar Salai. Many old and historic buildings adorn the side of the road opposite to the beach. The monumental buildings are Senate House of the University of Madras, Chepauk Palace (now P.W.D office), 19th century Presidency College building, Ezhilagam and the Director General of Police office. The beach has new artificial fountains and parks which adds to its beauty.

There is a swimming pool and an aquarium located opposite to the Presidency college which is a great attraction for tourists. The swimming pool is run by the State Government. The pool offers swimming classes at nominal charges. The aquarium has good collection of marine and fresh water fishes.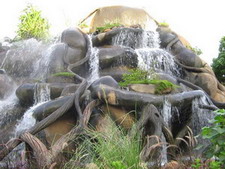 At the southern end of the Marina Beach is the new Light House. It stands 48m above sea level and offers a panoramic view of the city. The light house is open to visitors from 2pm to 4pm.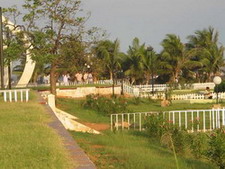 The recent Tsunami (December 26, 2004) claimed a lot of lives in the beach. Despite the destruction caused by the Tsunami waves, the beach has regained its pristine beauty because of the hardworking community.

The beach can be visited in early mornings or in the evenings. There are many food stalls, hawkers and many entertainers line the beach at these times to entertain the visitors. Kite flying is a major sport for children at the beach.